Rabbit TV is the world's largest virtual library of digital media, organizing a world of content to give you easy point-and-click access to over 50 years of TV shows, movies, music, events, and much more from thousands of global online sources.
With Rabbit TV, you don't need to waste your time searching endlessly for your favorite shows and movies, just click and start watching on-demand anytime. Rabbit TV searches, updates, organizes and manages over 2 million video links every day, so you'll always get the newest, freshest content available on the web, including the newest TV episodes, the latest movie releases, and loads of high-quality content from around the world that you probably never would have found on your own.

Put simply, Rabbit TV is your personal guide to the world of Internet TV.
Rabbit TV Content Overview
Here's a quick look at some of the content you can find with Rabbit TV :
TV

Watch the latest episodes from most major network TV shows on-demand, including today's biggest hits and the most popular shows of the last 50 years, plus thousands of TV channels and programs from all over the world as well as the best in original web programming.

Movies

Explore Rabbit TV's virtual library of free movies, including thousands of titles spanning every genre imaginable, or stream the latest box-office hits directly to your computer with our pay-per-view movie selection. If it's available online, you can find it with Rabbit TV!

Live

Enjoy instant access to the best in live streaming sports, events, news and other live channels online. Check out Rabbit TV's Live Events schedule to see what's streaming live today, or explore our selection of Live Channels covering news, sports, entertainment and more.
Why We Developed Rabbit TV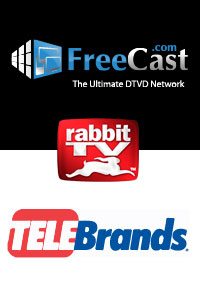 We believe the future of TV is on the Internet. Hundreds of thousands of free TV shows, movies, events, music videos, live channels and more are freely available online – the only problem is finding them all. Using standard search engines to find this kind of content can be time-consuming, and many times you end up hitting a dead end or even worse, downloading harmful software to your computer. We wanted to find a way to make watching TV online safe and easy.
Rabbit TV is the product of a collaboration between FreeCast, leaders in digital media innovation, and DRTV giant Telebrands. Together, we've collected a world of free content and organized it in one simple, user-friendly guide, so you can find and watch exactly what you want instantly or explore thousands of content options for any taste. We made Rabbit TV so you can spend less time searching and more time watching – that's why our slogan is "Watch More. Search Less."